All of our Australian Shepherds are standard size.
​​
Pixel & Spirit's puppies are here!
They were born 5-22-2021, and can go home 7-17-2021.
Please see pictures on Puppy Page!

Rosie & Shadow are due first part of July,
and
Candie & Bear are due the middle of July!


​Introducing our new dam, "Rosie"
and our new sire "Shadow"
Shadow (Sire) Rosie (Dam)
​Introducing our new dam, "Xena"
Mountain Wrangler Xena Warrior Princess
​Mountain Wrangler's Big Jake X Wortmans Mountain Wrangler's Rogue

​Introducing Sophie and Bear
Bear (Sire) Sophie (Dam)

Candie Rollie

​Introducing our new sire, "Bull Boy"
Mountain Wrangler Bull Boy
​Mountain Wrangler's Rusty X Crown Point Mountain Wrangler's Dakota

​Introducing our new sire, Mountain Wrangler Tanner!
​Mountain Wrangler's Rusty X Crown Point Mountain Wrangler's Dakota



​
​

​ Mountain Wrangler Aussies recommends
Life's Abundance Dogfood.
Our puppies transition well to eating on their own,
mom's haircoats stay thicker and silkier,
all of our dogs prefer Life's Abundance,
and they are all healthier than ever!
It is shipped direct to customer, so it is fresher,
​ and comes straight to your door!
​ To check it out and to order go to:
​ http://www.mountainwranglerpetfood.com
---


Big Jake- already on watch 2010

​ Sage- Proud Mama 4-29-12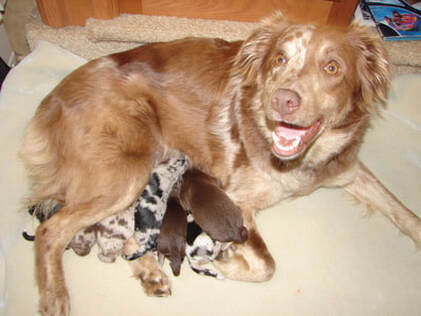 Gus and Vince Puppy Playmates
"Just Hanging Out" Jake and Dally